The Darkspear Tribe was a tribe of jungle trolls lead by Vol'jin. They are part of the
Horde.
Notable Members
Edit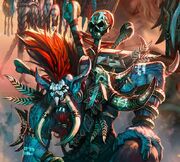 Vol'jin, Leader of da Darkspear and Darkspear Rebellion
Jerte, Secondary spy for Vol'jin, an' Darkspear Rebellion spy
Sen'jin, Former leader of da Darkspear (deceased)
Rokhan, Spy for Vol'jin
Ad blocker interference detected!
Wikia is a free-to-use site that makes money from advertising. We have a modified experience for viewers using ad blockers

Wikia is not accessible if you've made further modifications. Remove the custom ad blocker rule(s) and the page will load as expected.