Kazamo


Primary statistics
Homeworld
Died

33 AC

Status

Deceased

Physical description
Race
Gender
Hair color

Black

Eye color

Red

Skin color

Green

Other
Affiliation(s)
Kazamo was a goblin engineer that worked for the Horde. During the Burning Legion's third invasion of Azeroth, he wandered the Broken Isles looking for parts for a custom variant of the Felsteel annihilator developed by Gul'dan's Iron Horde. In Stormheim, he looted Titanstrike off the body of a deceased human hunter, and gave it a new paint job. Later, he assisted a group called the Legion's Downfall in an assault on the Tomb of Sargeras. Before the battle he was confronted by Maielle, who took notice of Titanstrike, and nearly killed him using Thas'dorah. He began the assault in his variant of the Felsteel annihilator, and later used Titanstrike to fight demons. Then, seeing an opening to shoot Drasgar Emsworth, he fired the gun at the paladin, and escaped.
After the Downfall fled the Broken Shore after supposed death of Drasgar Emsworth, Kazamo returned to the battlefield with a party to scavenge the parts of his Felsteel annihilator, and continued to upgrade it in secret. Eventually, his plan was complete to claim "vengeance" for Vol'jin, and he used his Felsteel annihilator to assault the Fourth Division Front in Azsuna, however he was ultimately stopped by Maielle, who claimed her own vengeance by shooting an arrow at Kazamo after destroying his Felsteel annihilator. The arrow pierced his heart, and he died shortly after.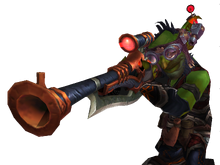 Ad blocker interference detected!
Wikia is a free-to-use site that makes money from advertising. We have a modified experience for viewers using ad blockers

Wikia is not accessible if you've made further modifications. Remove the custom ad blocker rule(s) and the page will load as expected.