Thasiyra Dulan


Primary statistics
Homeworld
Status

Alive

Physical description
Race
Gender
Height

1.75 meters (5'7")

Hair color

Blonde

Other
Affiliation(s)
Family

Jaxon Uriall (husband)

Weapons

Longsword
Thasiyra Dulan is a human female born in Stormwind City on the year 22. She was fierce and often unable to control her anger at a young age, and joined the Stormwind Army at the age of sixteen.
During the War Against the Lich King Thasiyra joined the Fourth Division of Kul Tiras, lead by Drasgar Emsworth, and the Lone Raiders, which was lead by the former leader of the Fourth Division, Padin Uriall. She made the rank of lieutenant, although stayed with the paladin Drasgar and one other member of the Lone Raiders, whilst the rest went on a mission to deal with the Scourge. During this time the Lone Raiders were slain, their bodies nowhere to be found afterwards, and the two remaining Lone Raiders followed Drasgar and joined the House of Emsworth as elite guards.
Later, after Raideregam City was built, she became Commander of the Raideregam Guard, as well as the primary offensive leader of the Lone Raiders. At some point she also married Jaxon Uriall, both having had a relationship together since the War Against the Lich King.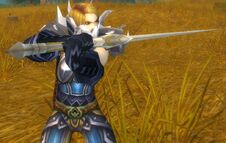 ---
Ad blocker interference detected!
Wikia is a free-to-use site that makes money from advertising. We have a modified experience for viewers using ad blockers

Wikia is not accessible if you've made further modifications. Remove the custom ad blocker rule(s) and the page will load as expected.